THE FIRST MOVEMENT IN THE WORLD WITH SIX RETROGRADE SECONDS HANDS.
THE REVOLUTIONARY ROYAL RETRO MECHANISM, WITH SIX SECOND HANDS, PERFECTLY ILLUSTRATES THE PIERRE DEROCHE PHILOSOPHY.
---
The drive to take the pleasure of fine watchmaking to new heights led to the creation of the first movement with a second display comprising six retrograde hands.
The fascinating ballet performed by the relay of second hands is made possible by modular design.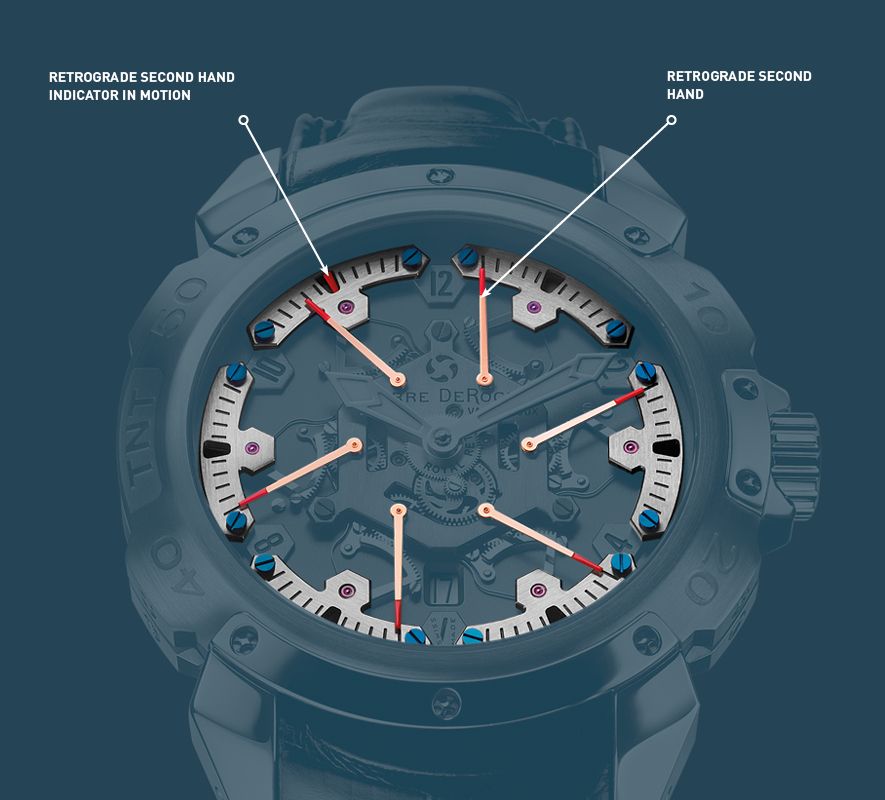 ITS GOAL? TO GIVE PEOPLE WHO LOVE THIS COMPLICATION MORE CHANCES TO SEE THE HANDS RETURN TO ZERO.
---
Building on a basic movement known for its power and precision, Pierre DeRoche focused his attention on the additional mechanisms.
Those belonging to the retrograde hands are moved by gears, not cams, and are positioned around and powered by the central axis of the movement. A strip spring was chosen over a balance spring to trigger the hands' return to zero.
Our models
---
THE ROYAL RETRO CAN BE FOUND IN THE TNT AND GRANDCLIFF COLLECTIONS

Our complications
---
Éloge du mouvement modulaire
PHILOSOPHIE FONDATRICE EN MÊME TEMPS QU'EXPERTISE, LA CONCEPTION MODULAIRE SIGNE DEPUIS L'ORIGINE LA SINGULARITÉ PIERRE DEROCHE.