CONCENTRIC CHRONOGRAPH
THE FIRST CALIBRE IN THE WORLD TO DISPLAY HOURS, MINUTES AND SECONDS ON A SINGLE COUNTER WAS BORN OUT OF THE DESIRE TO INVENT A NEW, INTUITIVE WAY OF READING STOPWATCH TIME.
AN ICON OF MODULAR DESIGN, THE CONCENTRIC CHRONOGRAPH HAS EMBODIED THE UNIQUENESS OF PIERRE DEROCHE FROM THE OUTSET.
---
Exceptional on several levels, the chronograph's mechanism is positioned next to the basic movement, rather than on top, and is equipped with a 60-minute display rather than the usual 30 minutes.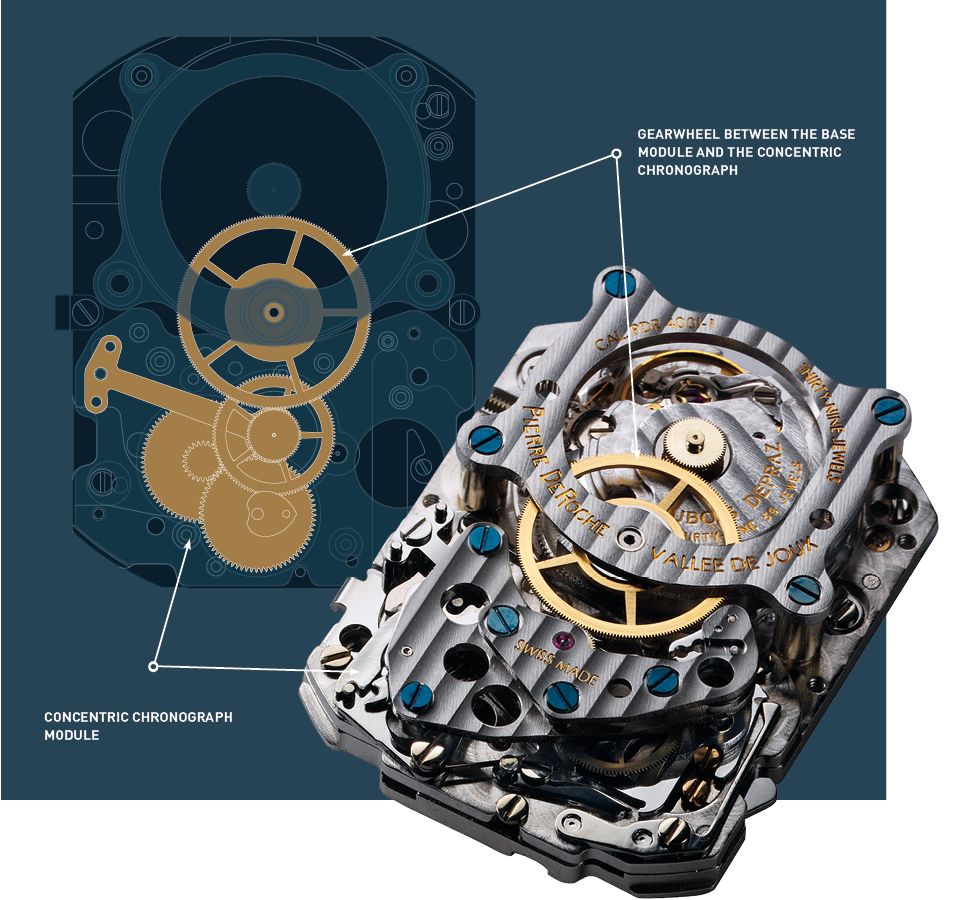 A LARGE WHEEL ACTS AS A GEARWHEEL, TRANSMITTING THE BASIC MOVEMENT'S ENERGY TO THE CHRONOGRAPH MODULE.
---
By transforming the hierarchy of information conveyed (hours/minutes in the centre, subsidiary seconds off-centre at 12 o'clock and off-centre chronograph at 6 o'clock) Pierre DeRoche has proven you can start with a classic fine watchmaking complication and go on to create a watch that stands out from the crowd.
Last remaining pieces
---
The showcase for this exclusive complication,
the SplitRock collection now includes only
a few copies of the Big Numbers model.
Our complications
---
Éloge du mouvement modulaire
PHILOSOPHIE FONDATRICE EN MÊME TEMPS QU'EXPERTISE, LA CONCEPTION MODULAIRE SIGNE DEPUIS L'ORIGINE LA SINGULARITÉ PIERRE DEROCHE.